Epoxy floors offer a wide range of benefits. One of the most significant advantages of epoxy floors is their durability. They are highly resistant to impact, chemicals, and stains. They are also highly resistant to moisture and are a great option for areas that may be exposed to water or other liquids.
The seamless surface of an epoxy floor makes it easy to clean and maintain, as dirt and dust cannot penetrate the surface. Regular cleaning with a mild detergent and water is usually sufficient to keep an epoxy floor looking like new for many years.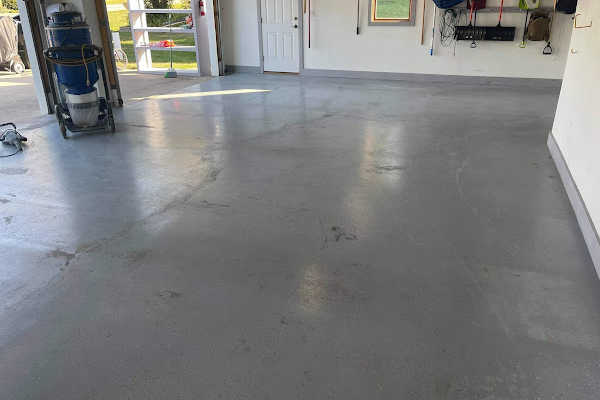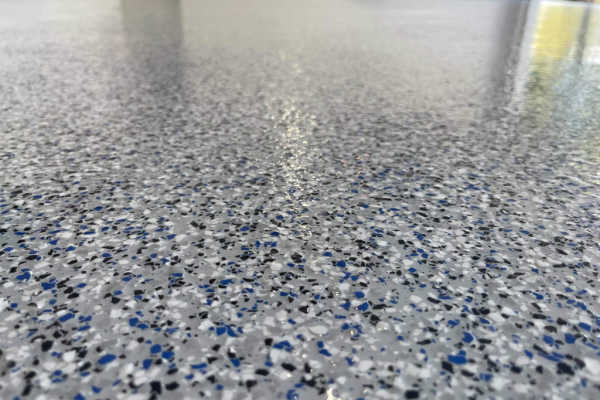 Our Epoxy floors have a Warranty.
Durability: Epoxy floors are extremely durable and can withstand heavy traffic, impact, and abrasions. They are also resistant to chemicals and moisture, making them ideal for use in industrial and commercial settings.
Low maintenance: Epoxy floors are easy to clean and require little maintenance. They do not absorb stains or dirt, so they can be easily cleaned with a damp mop or a mild detergent.
Aesthetic appeal: Epoxy floors come in a range of colors and finishes, and they can be customized to suit any design aesthetic. They can also be combined with other decorative elements, such as colored chips or metallic pigments, to create a unique look.
Safety: Epoxy floors can be made slip-resistant, which is particularly important in commercial and industrial settings where spills and moisture are common.
Cost-effective: Epoxy floors are generally less expensive than other flooring options, such as hardwood or tile. They also have a longer lifespan and require less maintenance, making them a cost-effective choice in the long run.
From Our Customers…
"Professional staff, fair prices, quick , full turn key service, friendly polite employees,worked
us in about 2 weeks."
-Robert Whitten
"Dry Basement Iowa did a great job on my complete basement replacement of all 4 walls. the guys are a good group of people and very understanding, as I can be a bit much at times. but thanks so much it looks great!"
-Phil Johnson
"Dustin Butler and his crew worked extremely hard on my project. They showed up Sunday night to deliver materials. Then they were there shortly after seven the next morning to get started. I had a fruit jar foundation. ALL the dirt and debris was carried up the basement steps in five gallon buckets. They would fill about forty and start carrying. Each man had to have made several hundred trips up the steps. At the end of the day everything was cleaned as best it could be. These are good, knowledgeable people to have working for you If I have the last wall done dry basement Iowa is the only one I will call. They are not free, but they are a whole lot cheaper than the other estimates. They do good work and are nice to work with."
-Karen Newman
"Has done multiple basements for me and always been great. Would definitely recommend."
-Kyle Rogers
"Very good work. We will recommend this company. They work with your budget and we are very happy with the work."
-Lugo Torres
"It's Going On Two Years That My Basement Has Been 100% Dry. So I Did Some Remodeling 🤗🤗 I Can't Believe I Have Carpet In My Basement! Couldn't Of Did It Without Dry Basement Iowa. Thanks Guys!"
-Te'Aira Campbell
Request Your Free Estimate